EMPLOYMENT OPPORTUNITIES
NCCS operates our high density computing facility currently focused on crypto currency mining located in the old Alcoa East Plant in Massena, NY. We are looking to fill the following positions to support our growth into the largest facility of its kind in the world.
If you think you match any of the positions listed, please use the contact from below at the bottom of this page to send us your resume. We're excited to meet you as a candidate to join our growing team!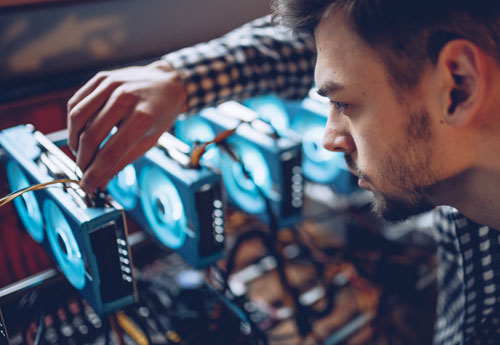 Full-Time Employee Benefits
Medical, Vision, Dental, and Life Insurance (after 30 days)
Paid vacation (after first work anniversary)
Paid sick days (after 30 days)
Paid coronavirus days (after 30 days)
Paid lunches
Performance-based bonus
Electrical Engineer
The Electrical Engineer is a key member of the Electrical Department, creating electrical designs, anticipating issues and vulnerabilities, and supporting NCCS' efforts in maintaining a safe, OSHA-compliant workplace.
Duties/Responsibilities Include, but are not Limited To:
Creating code-compliant electrical designs
Drafting in AutoCAD
Creating Electrical Bills of Materials to procure components
Creating and implementing preventive maintenance programs
Completing systems studies to increase efficiency
13.8kV and 480V systems troubleshooting
Auditing existing electrical infrastructure
Providing on-call electrical support
Calculating project and delivery timelines
Communicating with all stakeholders as appropriate, including employees and customers
Communicating recommendations, challenges, or issues to management as appropriate
Creating and implementing safety processes and procedures for the Electrical Department, in accordance to OSHA, NEC, NYS, and Federal standards
Maintaining a neat and clean workspace
Adhering to all company policies and procedures
Other reasonable tasks as requested
Required Skills/Abilities:
Strong verbal and written communication skills
Exceptional organization skills and attention to detail
Ability to quickly prioritize tasks while maintaining a quality work product
Outstanding analytical skills
Ability to write technical reports and documentation
Thorough and up-to-date knowledge of the National Electric Code and OSHA regulations pertaining to electrical safety
Proficient in AutoCAD software
Proficient in Microsoft Office Suite
Required Skills/Abilities:
Bachelor's Degree in Electrical Engineering or related field required; Master's Degree in Electrical Engineering or related field preferred
5+ years of progressive experience in Electrical Engineering; required
Demonstrated ability to design, install, and maintain electrical systems
Electricians
The North Country Data Center located in Massena N.Y. is looking to hire fulltime electricians to install, maintain and control electrical components. Electricians will be expected to analyze and diagnose electrical problems as well as ensure the safe and proper installation of various electrical components and cable.
Preferred qualifications:
Working knowledge of the National Electric Code
Experience working with 480V 3-phase systems
Electrical troubleshooting skills
Previous work experience as an electrician
Ability to read drawings
Ability to use a meter
Information Technology (IT) systems administrator
Management and Administration of the company's technical infrastructure, including hardware, software, and associated networks. Some key duties include – Installing and configuring software, managing servers and networks, and securing all technical assets. The IT systems administrator also provides assistance to employees and is hands on for troubleshooting problems and driving the resolution.
Preferred qualifications:
Demonstrated dedication to providing exceptional member service
Bachelor's Degree in Computer Science or related field
Two plus years of Information Technology experience
Willing to provide on-call support in case of emergencies
Cisco knowledge helpful
VMWare knowledge helpful
Experience in Windows and Linux System Administration
Mechanical Technicians
Responsible for fabricating and maintaining structures within the facility.
Preferred Qualifications:
High School Diploma/GED or Equivalent
2+ years of construction experience
Welding experience
Heavy equipment operation
Forklift Certification
OSHA-10 Certification
Basic computer literacy skills, including but not limited to:

Accessing the internet
Sending emails
Using apps
Operators
Responsible for the installation, maintenance, and removal of equipment and peripherals.
Preferred Qualifications:
High School Diploma/GED or Equivalent
Strong written communication skills
Basic computer literacy skills, including but not limited to:

Accessing the internet
Sending emails
Using apps

Ability to problem-solve
Desire to work with others
PLEASE USE FORM BELOW:
All candidates should be self-motivated, strong interpersonal and communication skills and have a willingness to learn, grow and continuously improve themselves.
Email all resumes to: [email protected]